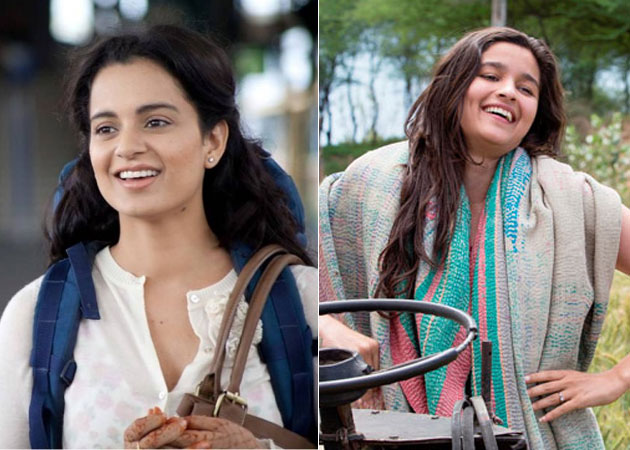 She has been demure, submissive; bold, beautiful; sexy, flirtatious and daring. She has also been holier-than-thou and sometimes, also a vamp. Bollywood, in its over 100 years of existence, has been a canvas of the several shades of a woman. But here's a new colour - the Kangana Ranaut of
Queen
and the Alia Bhatt of
Highway
- free-spirited and living life on their terms, much like young contemporary Indian women today.
I'm loving it!
The attitude - vociferous, uninhibited, opinionated, free-willed and independent - is so easy to embrace and fall in love with. It's almost as if the country'swomen, subjugated by social conformity, men, family and environment, have found a part of themselves hidden in some corner of these characters who recognise their path, create it, follow it and then emerge with flying colours.
Take a look at Kangana as Rani in
Queen
- she leads a simple, protected life like any other middle-class girl in Delhi's Rajouri Garden, or largely, across India; dates a man who doesn't let her dance her heart out even if she loves to, and isn't comfortable with the idea of having a working woman as his wife.
Rani adjusts - something that most 'bharatiya naaris' would do. But she comes into her own when her fiance calls off the wedding, and she announces to her parents that she wouldn't grieve and would instead embark on her honeymoon to Paris and Amsterdam - alone. She survives, enjoys herself and finds out how there is more to life than settling down with a man who doesn't care about her dreams and desires.
Ditto with
Highway
. But unlike Kangana's Rani, Alia's character Veera is rich and well-travelled. Yet, she feels something amiss and a ride on a highway brings joy to her life.
Her fiance, scared, tries to curb her desire, but here's Bollywood's new 'I'll do what I want' and 'I'll make you do what I want' type of heroine, who chooses to follow her dreams.
When she gets kidnapped, what follows is a journey of self-realisation for Veera, who happens to understand that travelling is not about going up and down in the lift of a hotel, that life is not about glittering social gatherings and she soaks in the joys of being in touch with nature and reality.
Examples of "free-spirited" women in Bollywood cinema may still be few and intermittent, but the trend is here to stay.
Katrina Kaif in
Zindagi Na Milegi Dobara
, Deepika Padukone in
Yeh Jawaani Hai Deewani
and
Ram-Leela
, Sonam Kapoor in
Raanjhanaa
, Parineeti Chopra in
Shuddh Desi Romance
and
Hasee Toh Phasee
, Sridevi in
English Vinglish
and the girls in
Chak De! India
-- all reflect the new age women who know what they want from life.
Deepika's
Yeh Jawaani
character gave voice to the desire of a young collegegoer to move out of the comfort of her house and chuck her fat books to explore life and see how her personality improves when she steps out of her mental stereotype. Sridevi's comeback role as a middle-aged housewife in
English Vinglish
proved that once a woman decides to do something, she does it successfully and age poses no bar.
Even Katrina's
Zindagi Na Milegi
character believes in seizing the moment and making the most of life instead of running after the conventional.
Parineeti, as the slightly eccentric character in
Hasee Toh Phasee
, does what she wants - irrespective of whether or not it fits into her family's traditional scheme of things.
These women expressed the grit, determination and indomitable will to live life their way.
It's a joy watching such pleasing and honest portrayals of women on screen. These characters show that if let loose, women can move so much beyond society's 'acceptable' limits.
In the real world, women are gradually reaping the benefits of making their own choices - be it about career, marriage, relationships, family or vocation.
So do us a favour dear people around us - let your daughter, sister, wife and mother have a life of their own. Let them loose!